bottle opener
We don't want anyone left out of Halloween celebrations, so we are continually developing new innovative ways to make Halloween accessible for all. Read on to get some great ideas and find products that can help bring the experience to life.
Some simple swaps can make Halloween more accessible.
Swap Face Masks for Face Paint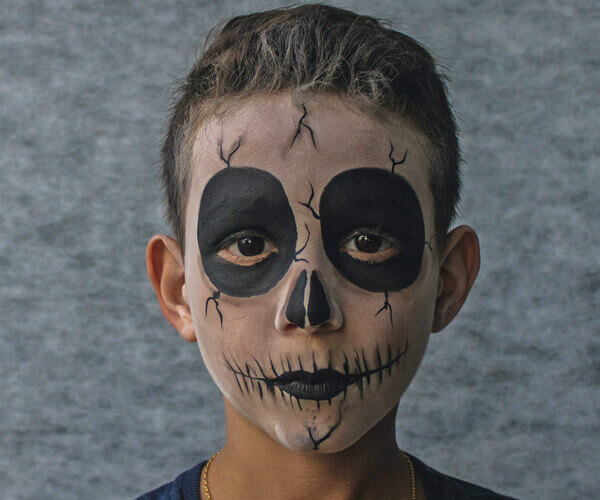 Instead of using masks as a part of the fancy dress experience, use face paint.
For visually impaired children, masks can hinder their sight, and for children who rely on lip-reading, masks can obstruct a person's mouth. Children with autism sometimes have sensory sensitivities, and masks could be too intensely stimulating.
The best alternative is face paint, as you can adapt the design to be more inclusive and suitable for various conditions and disabilities.
Trick or Treating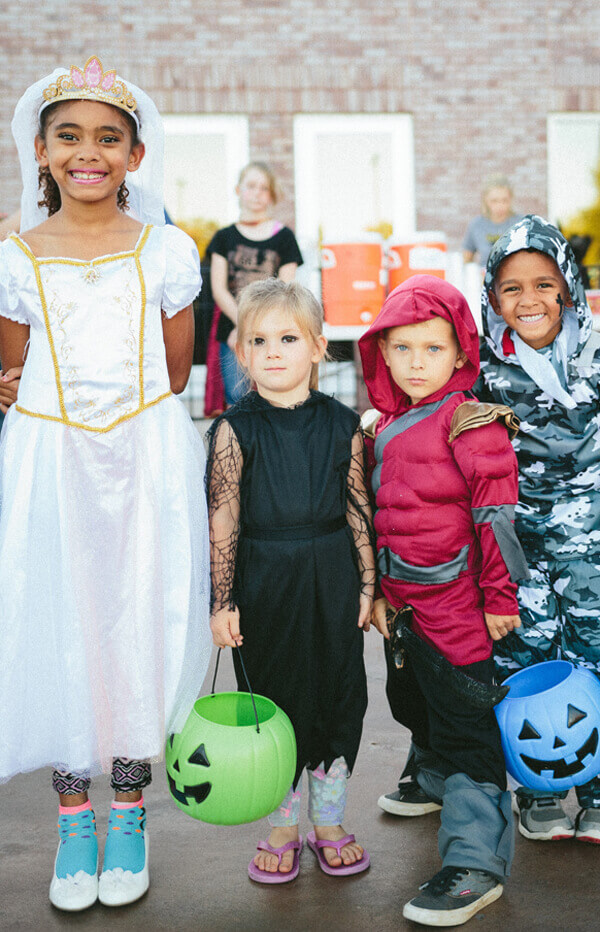 If you plan on venturing outside, make sure you have the relevant mobility aids for children, making the experience as comfortable as possible.
Youngsters who use a wheelchair and need help maneuvering in and out of it can use non-slip floor mats. Floor mats can give the child the support and grip required to maneuver into their wheelchair. Whilst out and about, feet don't always stay on the wheelchair footrest, but having grip roll that's stuck to the footplate prevents feet from slipping off, avoiding injury and maintaining comfort.
A trial run of the trick or treat route you will take, completed a day before, can help reassure children.
Adults and children alike can have allergies. One of the most common is a nut allergy, so make sure you stock a variety of treats that all children can enjoy, which avoids children feeling left out and prevents them from consuming foods that cause an allergic reaction.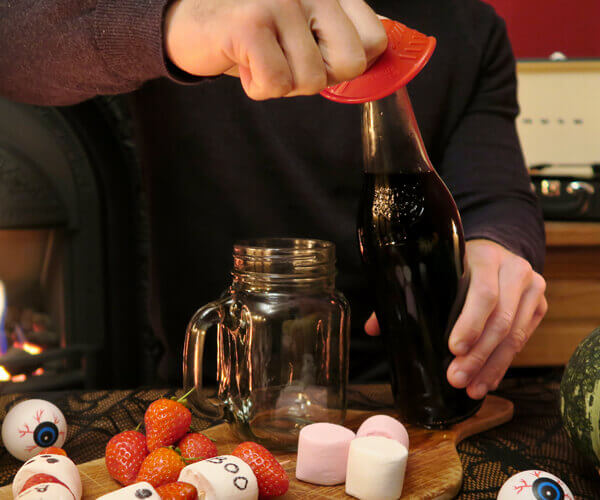 Sometimes drinks are given out as all the candy has run out, or the child requires a drink at the end of trick or treating. Either way, you may need a bottle opener. At Tenura, we have a grip-enhancing bottle opener that helps you open bottles with more comfort and grip.
Rather than going outside and trick or treating, you can hide the treats around the house as a treasure hunt. You can place them in areas you know are manageable for children at the party.
Prevent Spillages
Some children have trouble with their hand-eye coordination. But placing sweet bowls and drinks on anti-slip table mats and drinks coasters can prevent spillages. They are brightly colored, so easy to see. Tenura mats are also easy to wipe down and protect furniture from stains.
It may be a good idea to take a drink out with you whilst you trick or treat, and a Tenura silicone CupCap drinks cover can make any drinks container spill-proof.
Pumpkin Carving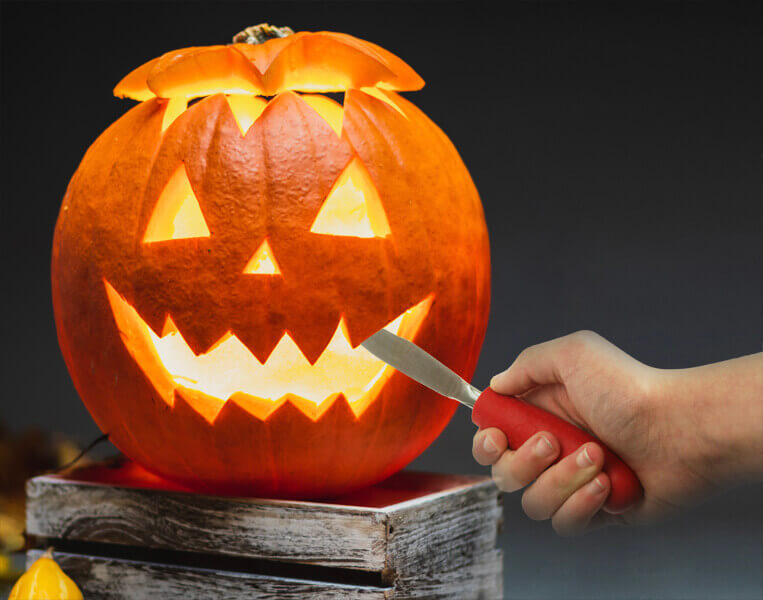 Carving pumpkins is a staple of Halloween, but it can be dangerous. By sliding Tenura children's cutlery grips onto the carving knife, the child's grip is maintained on the knife's handle, making the knife less likely to slip out of their hand. Children's cutlery grips make handles larger and easier to hold. Some children have difficulty grasping thin handles, so this is a perfect way to make pumpkin carving accessible.
To prevent the pumpkin from moving whilst you carve, you can place it on a Tenura anti-slip table mat.
If your child cannot participate in pumpkin carving, consider sticking items such as colorful pom-poms, fluffy pipe cleaners, and googly eyes to the pumpkin instead, which significantly reduces any risks involved.
Mark Your Home
Let others know that people in the home have conditions that require patience and understanding. You can do this by placing a sign visible to those coming up your driveway. Parents can read the sign and educate their children before approaching the door.
We hope these tips and tricks have given you some inspiration to make Halloween more accessible for various disabilities. If you have any other ideas you would like to share, let us know via our social media channels (Facebook and Twitter).
Happy Halloween!
Posted in
Assisted Living
,
Daily Living Aids
and tagged
Tenura
,
Halloween
,
accessible
,
accessibility
,
anti-slip table mats
,
drinks coasters
,
drinks covers
,
CupCaps
,
non-slip floor mats
,
grip roll
,
bottle opener
on .
Enjoy Halloween with the assistance of Tenura products! We want everyone to have a fantastic Halloween, which is why we have teamed up with MazeWebMedia to produce the latest Tenura video.
Watch the video, as it's filled with exciting and innovative ways you can use Tenura products to make your Halloween accessible to all and avoid any weeping witches or sad skeletons during your festivities.
Tenura Bottle Opener
Enjoying classic autumnal drinks such as dandelion & burdock or pumpkin spiced lattes is easier when you can twist off the bottle cap with ease, all you need is a Tenura bottle opener. The silicone has grip-enhancing properties meaning less strength is required to open bottles.
Tenura Jar Opener
Twisting open jars full of treats or in this case, Nutella, is much easier if you use a grip-enhancing Tenura jar opener.

Tenura CupCaps (Drinks Cover)
Tenura CupCaps creates a seal around the top of your drinks container. The seal stops liquid from escaping, helping you to avoid spillages. Another great feature of Tenura's drinks cover is it prevents debris from entering your drink, as you can see in our Halloween video.
Tenura Non-Slip Mats
When doing Halloween crafts such as carving a pumpkin or tucking into a Halloween themed feast, Tenura mats can be a great help. They protect your tables from marks, they're easy to wipe down and are non-slip which keep objects securely in place, helping you avoid slips and spillages.
Tenura Utensil Grips
Carving a pumpkin is a staple of Halloween, but for people who have hand impairments, it can be incredibly tricky and unpleasant. However, if you slip Tenura utensil grips onto your cutlery/carving knife, they create a larger handle which increases comfort and grip.
Tenura Grip Rolls
You can cut Tenura grip roll down to size to create bespoke non-slip surfaces, for instance, in the video, we have wrapped Tenura grip roll around the handle of a butter knife. The user experiences increased grip qualities of the handle and therefore, has more control over the knife, making your Halloween activities safer for the disabled and elderly.
We hope you have found this blog helpful and that you can now celebrate Halloween regardless of age or disability. You can watch more Tenura videos via our YouTube channel.
You can tag us and show how you have put Tenura products to use this Halloween via social media (Facebook and Twitter), we can't wait to see your scary pumpkin carvings.
Posted in
Daily Living Aids
,
Tenura Updates
,
Tenura Videos
and tagged
Tenura
,
Halloween
,
video
,
disabled
,
elderly
,
accessible Halloween
,
bottle opener
,
jar opener
,
CupCaps
,
drinks cover
,
non-slip mats
,
cutlery grips
,
grip rolls
on .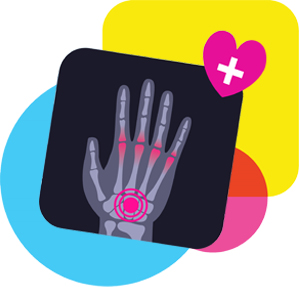 To help advocate for World Arthritis Day 2020 (10.12.20), we thought it would be a great idea to answer some of the most commonly asked questions surrounding arthritis.
Can Arthritis be Cured? / Can Arthritis be Treated?
Currently, a cure is not known for arthritis. However, there are many treatments available that can decelerate and help minimise the pain and other symptoms surrounding arthritis. If you believe you or someone you know has arthritis, seek a doctor's advice immediately.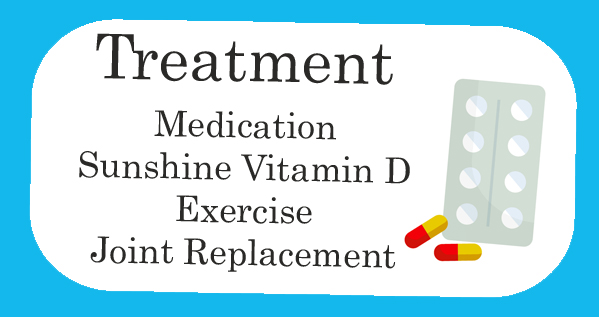 To treat arthritis, you can use prescribed medication. There are some lifestyle changes you can make too, such as spending more time in the sun, as Vitamin D helps maintain healthy bones and allows the autoimmune system to work correctly. Sunshine is especially helpful for those with rheumatoid arthritis which is often caused by an autoimmune response in the body. You can read more about this in our "Activities in the Sun for People with Arthritis" blog.
There are various operations doctors can perform depending on the type of arthritis and its severity, with the well-known being, joint replacement surgery. During this surgery, a prosthetic joint replaces an arthritic joint.
Can Arthritis Spread?
Rheumatoid arthritis is currently perceived to spread via a person's blood vessels. If a person has rheumatoid arthritis their arthritic joint releases synovial cells contained in the synovial sac (the sac lubricate joints to avoid friction and wear), these cells travel around the body, affecting other joints-according to a study at the Kerckhoff-Clinic, Germany.
Unlike rheumatoid arthritis, osteoarthritis does not spread through the body. Due to this, a person with osteoarthritis may overcompensate, heavily using other joints to remain balanced and mobile. Overcom­pen­sating can cause those other joints to have excess stress put through them, which can be damaging, and this is why it is crucial to seek a doctor's advice as soon as symptoms of arthritis occur.
What does Arthritis Look Like?
Arthritis can cause edema (swelling) in the affected areas, along with red-ish skin. In acute cases, joints are misshapen, so much so, the affected area takes on a new shape resulting in a crooked finger or toe. Knobbly abscesses can contribute to the malformed appearance, these abscesses are the body trying to protect itself, as the joints wear down, the body attempts to regrow the bone, and it doesn't always grow in the shape it once was. Another indication of arthritis is small mucous cysts that develop on the hands.
What does Arthritis Feel Like?
Initially, it is said to feel achy, similar to a burning sensation which comes and goes depending on your activity level. In the later stages, the pain tends not to subside and remains in the affected joints. Around affected joints, the skin may be warm to the touch due to inflammation caused by irritated joints. Joints tend to become stiff and seize up, which is why the NHS recommends exercise.
How can you Participate in World Arthritis Day 2020?
We are glad you asked, there are many ways you can support World Arthritis Day. You can raise awareness and spread knowledge through your family, friends and social media. You can participate in local healthcare organisation's charity events, appeals or fundraisers. Perhaps you could start a fundraiser yourself or participate in a fun run.
One of the ways Tenura will be supporting World Arthritis Day is through our marketing channels. We will be posting helpful information all month regarding Arthritis and Tenura arthritis aids. You can learn more about Tenura arthritis aids through our blog.
A quick low down of some helpful arthritis friendly Tenura products:
Tenura Non-Slip Coasters and Anti-Slip Mats
Non-slip coasters and anti-slip mats provide a place to rest things such as mugs and plates, the silicone grips onto the objects which keeps them held in position. A person with arthritis may find these anti-slip mats to be helpful, as you can use them in conjunction with the silicone jar and bottle openers to open containers with one hand, allowing you to use the less arthritic hand.
Tenura Silicone Jar and Bottle Opener
Jar and bottle openers enable you to open containers with ease. Tenura silicone has grip-enhancing properties that allow you to get a firm grasp of lids. For a person living with arthritis, these openers can be a great help as pain, swelling, or other flare-up symptoms can make objects a struggle to hold.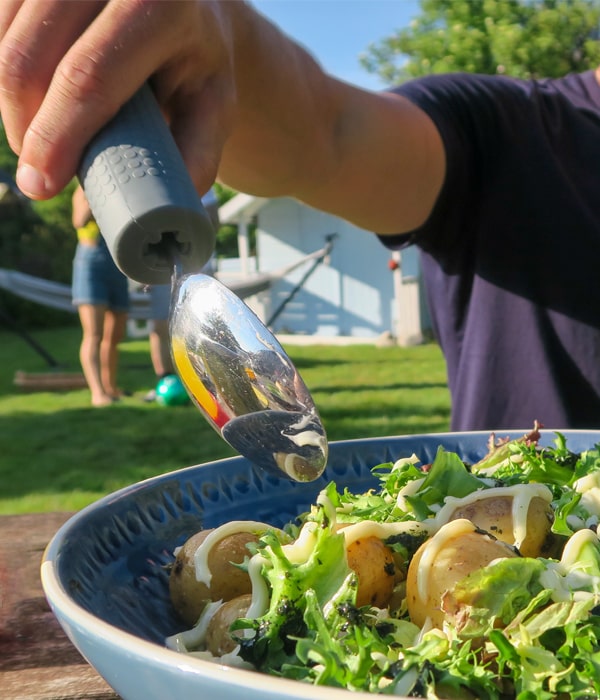 Tenura Silicone Cutlery Grips
Arthritis can cause reduced movement in your hands and fingers that makes holding onto cutlery difficult. By sliding Tenura cutlery grips onto utensils, you no longer require the full motion used to clutch cutlery as the surface area is now greater.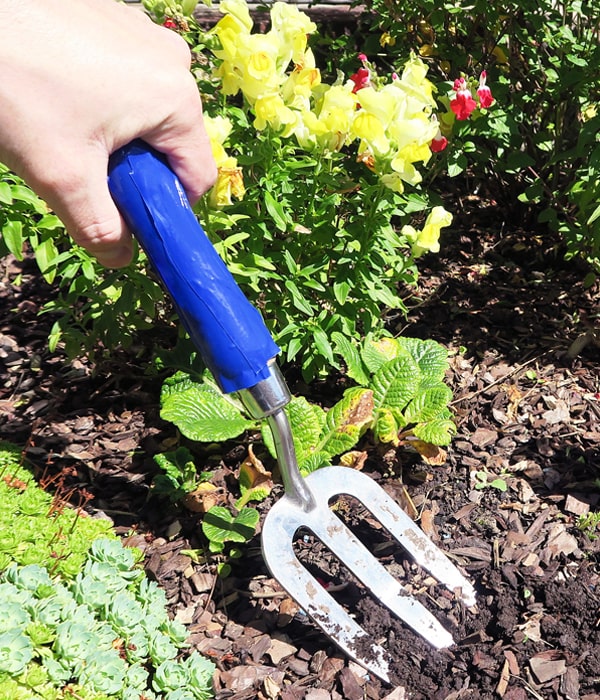 Tenura Silicone Non-Slip Grip Strips and Rolls
Create bespoke arthritis aids using Tenura grip strips or rolls. You can cut Tenura silicone down to the size and shape required. Many of our customers who live with arthritis use the grip strips around handles of cupboards, pans, DIY and gardening tools, to mention a few. Tenura silicone is both a non-slip material and grip-enhancing, which is why it is perfect for use on handles, you can get a firm hold without the risk of things slipping out of your hands.
All the products listed above are made from Tenura silicone, which means they are:
Antimicrobial (prevents bacteria harbouring)
Washable by hand or dishwasher (withstanding temperatures up to 250°C)
Non-toxic (safe to use in all environments)
Latex-free
To stay up-to-date with all the events and activities during World Arthritis Day 2020, you can follow the hashtags:
#WAD20
#WorldA­rt­hri­tisDay
#ArthritisDay
#Arthri­tis­Da­y2020
#Cure­Art­hri­tisWAD
And follow us on our social media channels; Facebook, Twitter and YouTube and don't forget to tag us in your World Arthritis Day activities.