We are Disability Wholesale Suppliers
We can offer your company great wholesaler prices when you register with us for a free trade account. Whether you are a reseller of disability supplies or a mobility equipment distributor, our Daily Living Aids would be a great addition to your repertoire. If you would like to try our Living Aids before making a bulk purchase, you can request this service via our Free Samples page.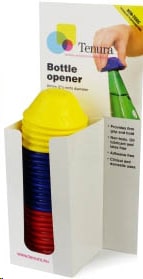 How to Get a Trade Account
To become a reseller or a distributor of our Living Aids, all you need to do is get in contact with us, your disability aid manufacturer. You can do this through; our live chat service, giving us a call or using the Contact Us form to discuss this prospect with us further.

Tenura's Wholesale Disability Supplier service is also perfect for nursing homes and medical practices as you can bulk buy our Daily Living Aids and purchase them at disability wholesale supplier prices.
We also offer a Custom Manufacturing service which allows you to choose the colors of your Tenura Daily Living Aid range to match your branding. The packaging encasing the Daily Living Aid product you would like to customize can also be branded and for more information on this service, please visit our Custom Living Aids Manufacturer page.
If you order stock from us (with the exception of our custom manufactured stock) but have no storage space at your facility, we can offer a drop shipping service direct to your customers.
What is Drop Shipping?
Drop Shipping is a simple solution for companies that have a limited amount of storage. You can purchase our Daily Living Aid products and have them stored at our warehouse. As an order is placed on your e-commerce site, send us the relevant details via email so we can ship the requested Living Aids out to the customer on your behalf.
Drop Shipping in 5 Easy Steps
Request a trade account with Tenura via phone or email, this will provide you with a Photo Download Suite, which is full of Living Aid product images.
Place your order for the stock you would like to market on your disability supplies website or in your store. Again this can be done via phone or email.
Use our photos and other mediums to attract customers to those products through your marketing campaigns whether they are printed or digital. Take a look at our brochure as an example.
Please notify us via email with the relevant information when a Tenura product has been purchased. We will then get your products ready for shipment to your customer.
Once the shipment is ready, we will dispatch the product to your customer. It couldn't be simpler to make us your Daily Living Aid supplier with this drop shipping service.

Advantages of Tenura Daily Living Aids Drop Shipping Service
✔️ It is a great way to add more inventory to your e-commerce site. Having another range of products to offer your customers gives them more choice which can add value to your store. If your company provides mobility equipment or perhaps disability supplies, and you are looking at adding more variety to your store, but you cannot facilitate the stock, we can hold the stock on your behalf.
✔️ If you are using drop shipping companies exclusively to provide products to your customers, you do not need to be local to drop shipping companies. Choosing to use our drop shipping service will save money on warehouse/­storage costs as well as salary costs to run the warehouse. So, if you do have a quiet period, you do not need to worry about those additional costs that affect other companies.
✔️ It also reduces the risk to you as a company as you do not need to find storage for the products or buy vast quantities. When all stock is purchased, you can purchase further stock with us.
✔️ If you choose Tenura as your Disability Wholesale Supplier you will benefit from our fantastic shipping rates. This is due to the quantities we ship out, therefore, reducing the logistics cost. We deal with the whole dispatch process, which will save you time and money.
✔️ One disadvantage of many disability wholesale suppliers is that they can run out of stock, therefore, failing to provide you or your customers with the service. However, we always keep a healthy level of stock in our warehouses due to our lean manufacturing methods and internal stock monitoring systems.
If you want to purchase Tenuras Daily Living Aids at wholesaler prices and also become eligible for use of our Drop shipping service, please request a free trade account. You can do this through; our live chat service, giving us a call or using the Contact Us form to discuss this prospect with us further.