Social Media
Tenuras latest addition to the daily living aids range is self-adhesive non-slip silicone reels. This material is our faithful non-slip silicone with an added bonus of a strong self adhesive backing, allowing it to be applied to an area as an effective semi-permanent non-slip surface. This will not only provide excellent non-slip properties, but will not damage any items placed upon it.
The adhesive backing was an additional feature people have enquired about online, at meetings and exhibitions. Now we at Tenura are happy to make this available and supply an inexpensive, self-adhesive non-slip surface.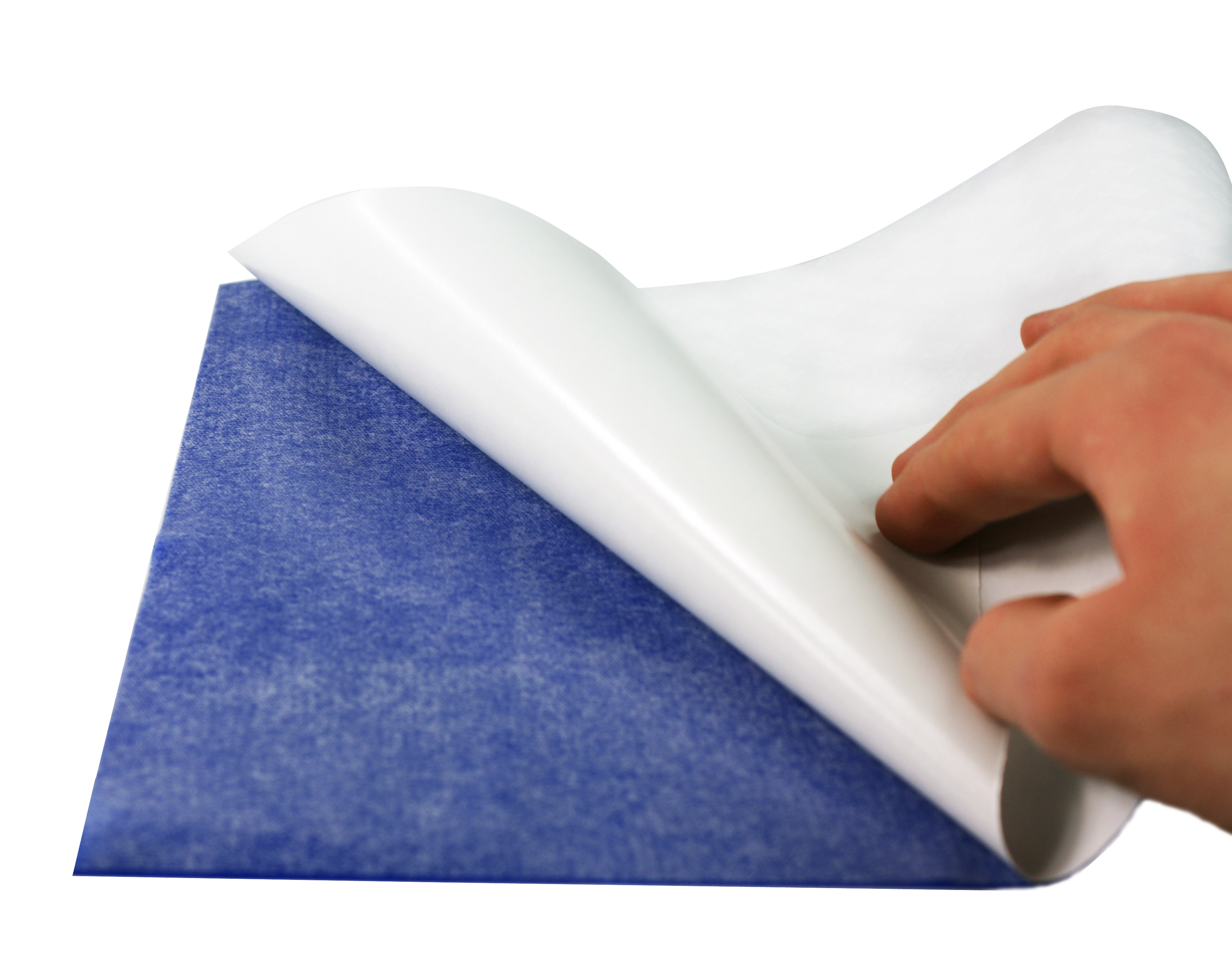 This material can be used in many domestic and industrial applications such as in tool boxes, workbenches, breakfast bars or side tables, both at home or desks in the office. It can also be applied to handheld objects to increase grip and comfort. Self-adhesive silicone reels decrease the risk of spills and prevent stains from objects resting on its surface. Thanks to the easy peel away backing, this material can be applied quickly and neatly, creating an aesthetically pleasing non-slip surface.
They are highly versatile. This is due to the ability of being able to cut pieces to specific sizes using scissors, making them ideal for when a non-slip surface is required.
The aforementioned cut-to-size versatility makes it perfect for areas where multiple or specific shape applications may be needed.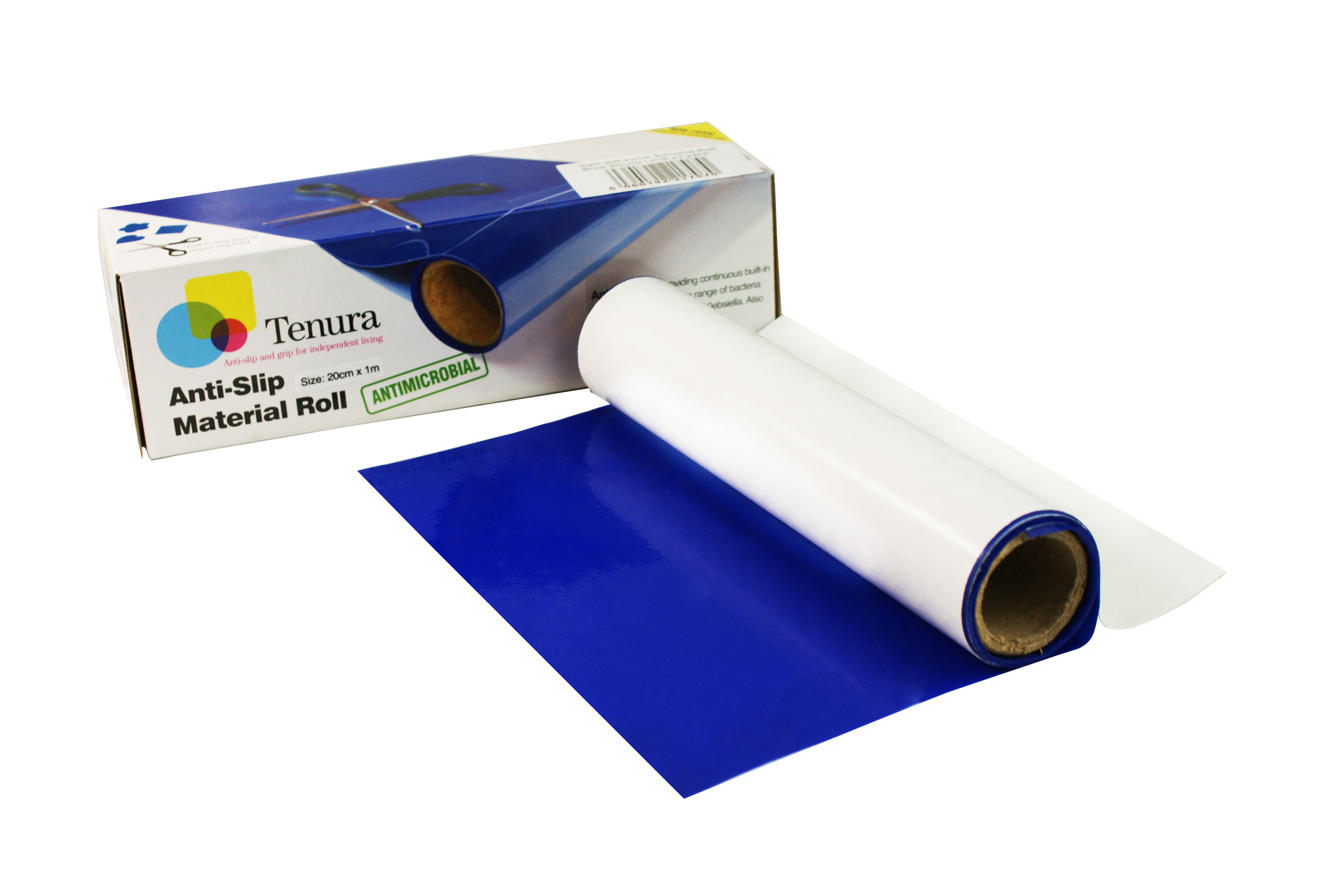 Like most of Tenura silicone non-slip and grip aids, Tenura self adhesive non-slip reels can be cleaned with a simple combination of hot water and soap, but will lose all non-slip properties whilst wet. Once dry the materials non-slip properties will return, so we recommend allowing the surface to dry properly before using it.
Tenura self-adhesive non-slip reels are 3.2ft x 7.8" giving you a large amount of material to work with for your money. They are 0.011" thick and available in blue.
Tenura self adhesive non-slip reels can be purchased directly through our website, along with the rest of Tenuras range of daily living aids. You can get free shipping on all Tenura products by spending over $40 or more!
Should you have any questions or queries about our self-adhesive non-slip reels or any other products Tenura produces, please contact the sales team via email or contact form. If you would like to speak to us directly, you can do so via the live chat feature or calling us by phone.
Utensil grips are a handy addition to day to day life by providing an enhanced surface area around knives, forks, pens, pencils, toothbrushes and many other items, making them easier for daily use. Utensil Grips are perfect for those who suffer from impairments to grip. By increasing the surface area on the utensil, you can decrease the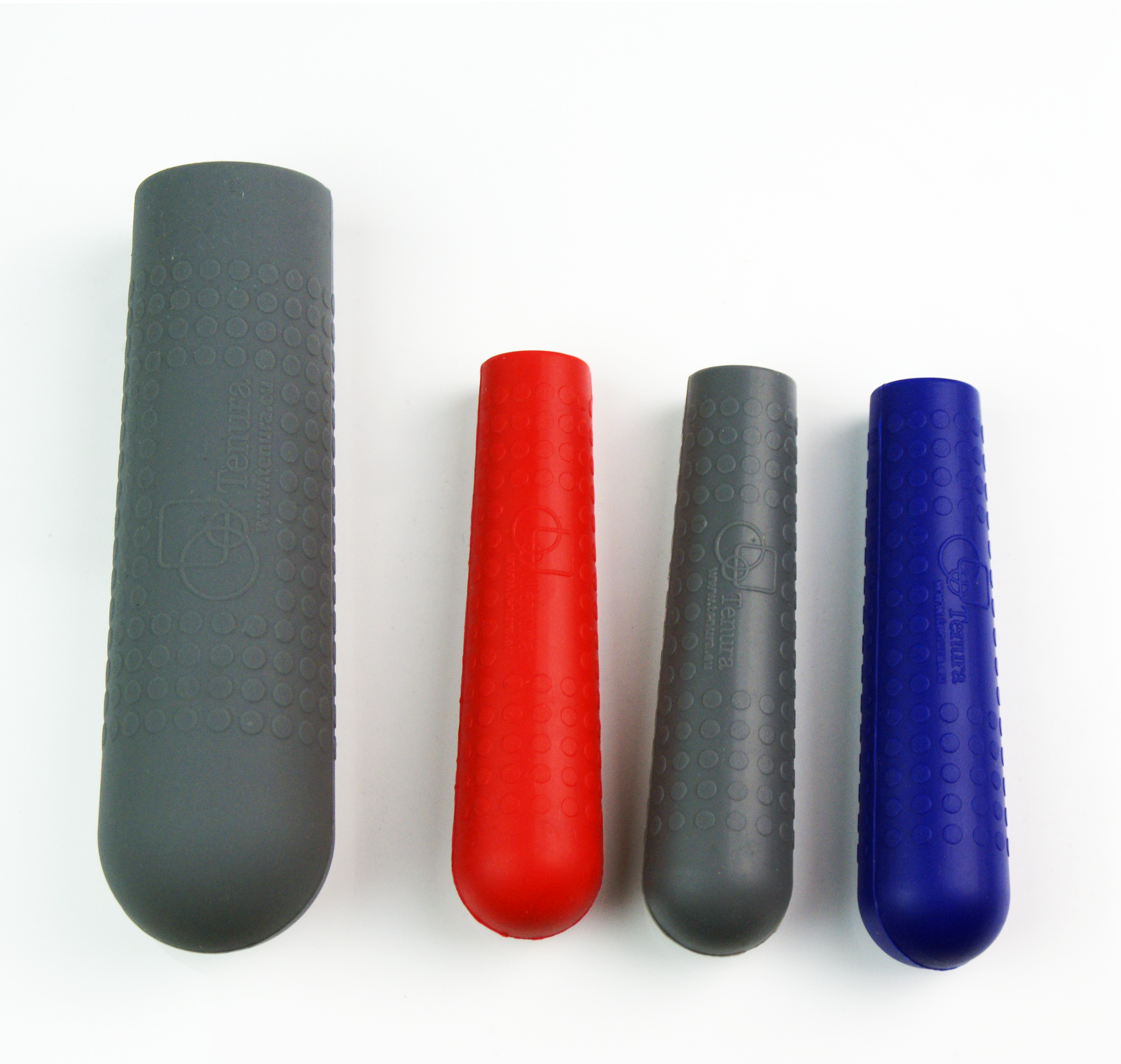 amount of grip required, helping to decrease strain on muscles when trying to grip small objects. However, these products are sized for adult hands, which may prove difficult for children to use.
This presented us with a dilemma. How good is a daily living aid if it can't cater to everybody's needs? This brought us to the product we are mentioning for the first time, Tenura children's Utensil grips!
Tenura children's utensil grips, like their bigger counterpart, also provide an enhanced surface area allowing children with impairments to be able to use utensils easier without having to accommodate a large Utensil grip. Children's Utensil grips are 98mm in size and weigh 45g per sheaf. This is a lot lighter than our adult versions. Utensil grips are made from a strong antimicrobial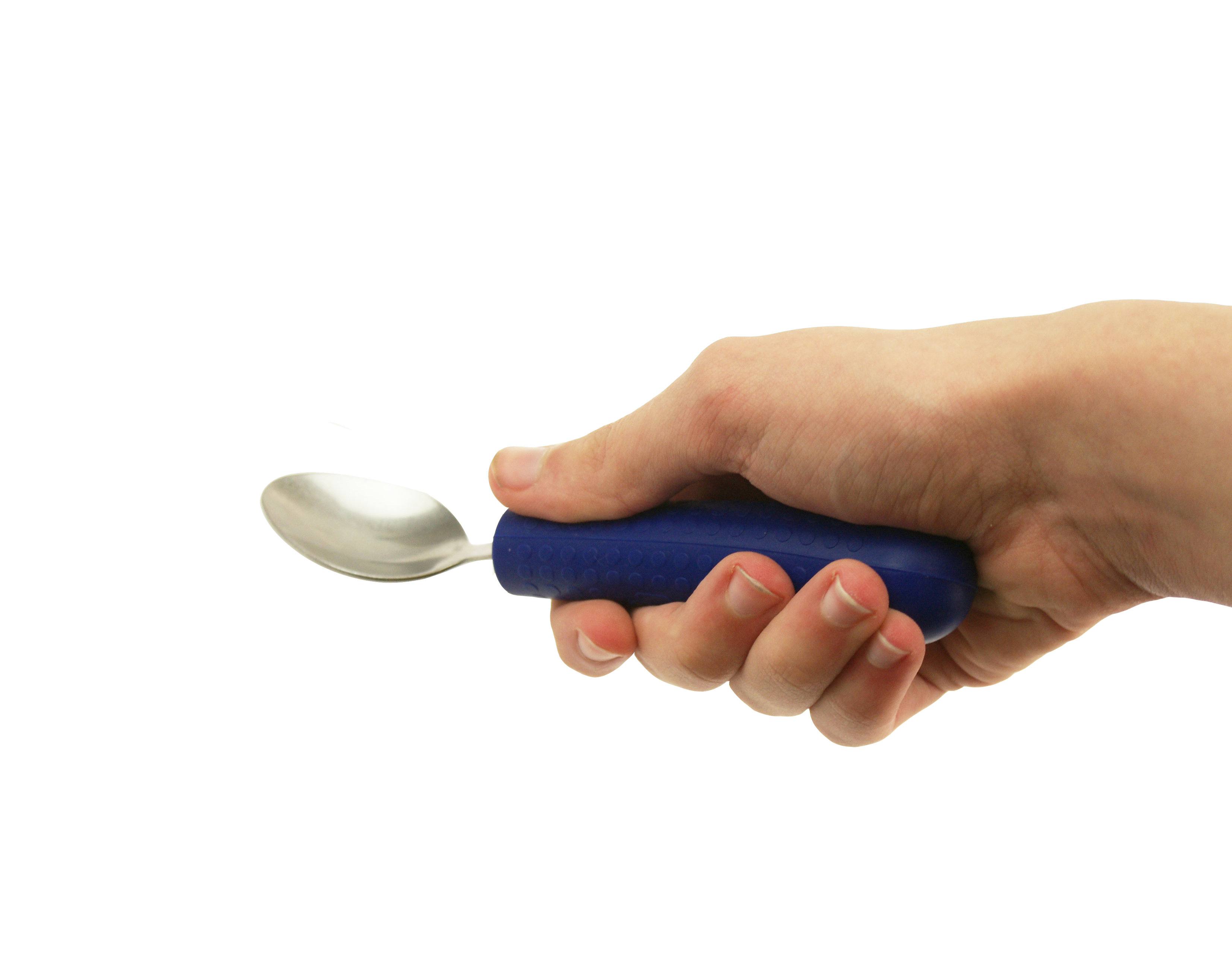 silicone, designed to be durable and prevent the harboring and spread of bacteria.
Utensil grips are easily applied and can be washed by hand or via dishwasher. These are perfect for big industries like charities or organisations who may have a large turnaround of people and don't have time necessary to clean them all by hand.
Tenura Children's Utensil Grips come in three vibrant colours options, red, blue and grey. Utensil grips can be purchased directly through our website and come in packs of two. By spending $40 on our website and we will ship your order free of charge. For further queries, please use the contact form or live chat on our site!
Here at Tenura, we feel very much like evangelists of slip prevention. We have always seen the world as a hazardous place. It's always inevitable that slip and fall accidents happen in slippery and dangerous areas if the correct precautions are not taken.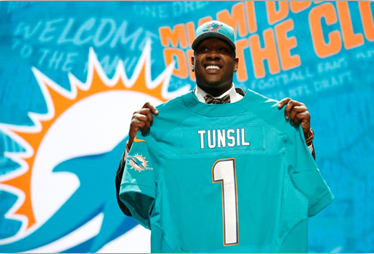 A good example of this was Dolphins Lineman Laremy Tunsil, who suffered and unfortunate slip and fall accident in the shower at the hotel the Dolphins were staying in before their game against the Titans. This injury to his ankle led Tunsil to miss the game after 4 solid starts.
This fall shows that it doesn't matter what your physical stature, slips and falls are always around the corner, especially in places like wet rooms, bathrooms or showers. Many people see slips and falls as something which happens to those who are impaired, disabled or elderly. However, events like this really show how this can happen to anyone and can have serious effects on your life. We wish Laremy Tunsil a swift recovery.
Tenura believes a form of slip prevention should be in all baths, showers and wet rooms. Unfortunately, many of the current items for this, such as the common bath mats can create a trip hazard of their own and harbour bacteria easily if not cleaned often. Bath mats can also fold over or lift when moving your foot over them, creating a secondary trip hazard that is just as, if not more dangerous than the first.
Tenura Non slip bath and shower stickers are made from a non abrasive anti slip material called Aqua Safe. Aqua safe is an embossed PVC plastic which is completely waterproof and has very high grip levels, making it perfect for applying in areas where water will constantly sit. This materials non abrasive surface is extremely comfortable to walk and rest bare feet or soft fabrics on, preventing the damage or injury an abrasive solution could cause. Tenura non slip fabric and discs create a form of non slip surface without the need for a mat. These strips and discs can be applied directly to a dry bath, shower or wet room and be used instantly, without the danger of lift or creating a trip hazard.
Tenura aqua safe strips and discs can be found in white and transparent colors, allowing you to match and not disturb the aesthetics of bathrooms and showers whilst still offering effective slip protection.
To find out more about Tenura aqua safe anti slip bath and shower stickers, please visit the website, or alternatively contact us via phone, email or the contact us form.
(Picture found at: http://­ftw.­usatoday.­com/­2016/­04/­laremy-tunsil-gas-mask-bong-nfl-draft-miami-dolphins)