Internet
Here at Tenura, we feel very much like evangelists of slip prevention. We have always seen the world as a hazardous place. It's always inevitable that slip and fall accidents happen in slippery and dangerous areas if the correct precautions are not taken.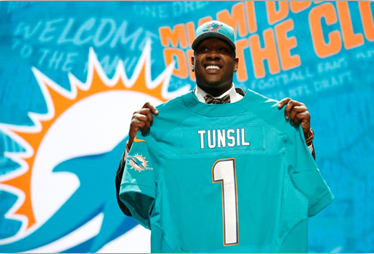 A good example of this was Dolphins Lineman Laremy Tunsil, who suffered and unfortunate slip and fall accident in the shower at the hotel the Dolphins were staying in before their game against the Titans. This injury to his ankle led Tunsil to miss the game after 4 solid starts.
This fall shows that it doesn't matter what your physical stature, slips and falls are always around the corner, especially in places like wet rooms, bathrooms or showers. Many people see slips and falls as something which happens to those who are impaired, disabled or elderly. However, events like this really show how this can happen to anyone and can have serious effects on your life. We wish Laremy Tunsil a swift recovery.
Tenura believes a form of slip prevention should be in all baths, showers and wet rooms. Unfortunately, many of the current items for this, such as the common bath mats can create a trip hazard of their own and harbour bacteria easily if not cleaned often. Bath mats can also fold over or lift when moving your foot over them, creating a secondary trip hazard that is just as, if not more dangerous than the first.
Tenura Non slip bath and shower stickers are made from a non abrasive anti slip material called Aqua Safe. Aqua safe is an embossed PVC plastic which is completely waterproof and has very high grip levels, making it perfect for applying in areas where water will constantly sit. This materials non abrasive surface is extremely comfortable to walk and rest bare feet or soft fabrics on, preventing the damage or injury an abrasive solution could cause. Tenura non slip fabric and discs create a form of non slip surface without the need for a mat. These strips and discs can be applied directly to a dry bath, shower or wet room and be used instantly, without the danger of lift or creating a trip hazard.
Tenura aqua safe strips and discs can be found in white and transparent colors, allowing you to match and not disturb the aesthetics of bathrooms and showers whilst still offering effective slip protection.
To find out more about Tenura aqua safe anti slip bath and shower stickers, please visit the website, or alternatively contact us via phone, email or the contact us form.
(Picture found at: http://­ftw.­usatoday.­com/­2016/­04/­laremy-tunsil-gas-mask-bong-nfl-draft-miami-dolphins)
As you can see, our new site is now live! We have been working on this for the past few months to bring a much more simplified user experience to all of our site visitors which we hope will allow you to make better informed choices with our daily living aids.
With the increased use in smart phone and tablet use, we required a website that would be as easy to use on smart phone and tablet as it is on your desktop PC or laptop.
We do welcome feedback, especially from our users, so if anyone finds any problems with the site, then feel free to let you know and we may even give you a unique discount code to use on Tenura products for your trouble.
To celebrate the launch of our new website, we are offering a 10% discount code from now until September 12th to use to buy yourself some Tenura daily livings aids.
Simply enter the code 'NEWSITE10' ( one use per registered customer ) during checkout to receive a 10% discount on your order. Free shipping is available on all orders over $40.

We hope you enjoy our new site!