Tenura Marketing Information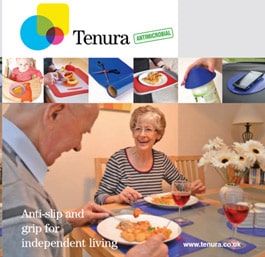 If you are looking at becoming a reseller or distributor of Tenura Daily Living Aids we have plenty to offer you. We can provide you with various printed mediums of our product range, such as brochures and catalogs of Tenura's Daily Living Aids. The print medium of your choosing can be produced in full color to highlight the products and make our rich reds, golden yellows and bold blues stand off the page. Please browse through our Daily Living Aids Catalogue to get some ideas.
Advantages of our Daily Living Aid Catalogues
✔️ These Daily Living Aid brochures can work wonders to attract customers and potential prospects. Brochures are a great way to distribute a lot of information in a compact booklet, and because of the size, they can be effortlessly circulated.
✔️ Another benefit of this printed medium is that it can help to build trust between the company and potential customers. Many companies include their business objectives and goals in their Daily Living Aids catalog which can give the reader an insight into the company and help them to see the caring and dedicated side to the business, which is important in the Health and Beauty Industry.
✔️ If you are trading Tenura globally, you can benefit from our translated product catalogs and distribute them to prospects in their first language.
Your Photo Download Suite
We can supply you with a Photo Download Suite which has 100's of images. This virtual image suite allows you access to high-resolution images of our Tenura Daily Living Aid range. These images are at your disposal and are perfect for including in your marketing materials, both digitally and printed. I am sure that our products for persons with disabilities will look fantastic in your Disability Products catalogue.


There is a vast range of images in the suite to show our Daily Living Aids in different and innovative environments. For example, we have pictures of our Non-Slip Fabric being used to line draws in the kitchen, so utensils stay gripped onto the surface. There are also images of the Non-Slip Fabric being used as carpet underlay and as a surface that grips for the car trunk and won't look out of place in your Disability Products catalog.
If you are interested in becoming a reseller or distributor and would like to take advantage of our Daily Living Aid Brochure service or the Photo Download Suite, please request a Tenura account by completing the Contact Us form.