how to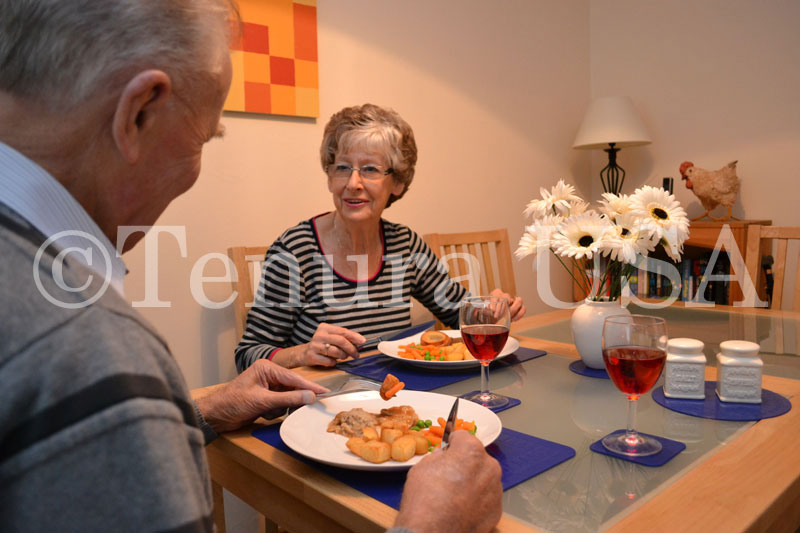 Living life day to day and taking on the daily tasks can be quite difficult at times for those who have a busy lifestyle. Some of these tasks include cooking, washing, cleaning, etc.
Many of these tasks can be time-consuming and often tiring when trying to fit in into a busy schedule. Those who suffer from diseases such as Arthritis, which directly impacts one's ability to grip and many other motor functions, or suffer from other impairments can find these tasks to be nearly impossible to take on without pain and strain on joints and muscles. This can affect your ability to live independently and your lifestyle in general. Tenura is here to help! We offer a wide range of products that be used to help in all areas of your home.
Throughout this post we feel it's necessary to focus on how these different weakening diseases and impairments can affect daily living and how Tenura is here to help make mealtimes easier!
Mealtimes can be somewhat exhausting, whether it be breakfast, lunch, dinner or even snack time, especially with a young family. As much as we love our young ones, we know that spills and stains can occur and cause stress during a sit down meal time. Stains and spills are an inconvenience that we would all love to do without. Hot drinks and foods can cause burns, ruin clothing and cause stress for the one cleaning up. Tenura has many products designed to inhibit spills and stains, keep dishes steady and in one place, and provide grip to make cutlery which is easier and more comfortable to hold!
Rectangular Mats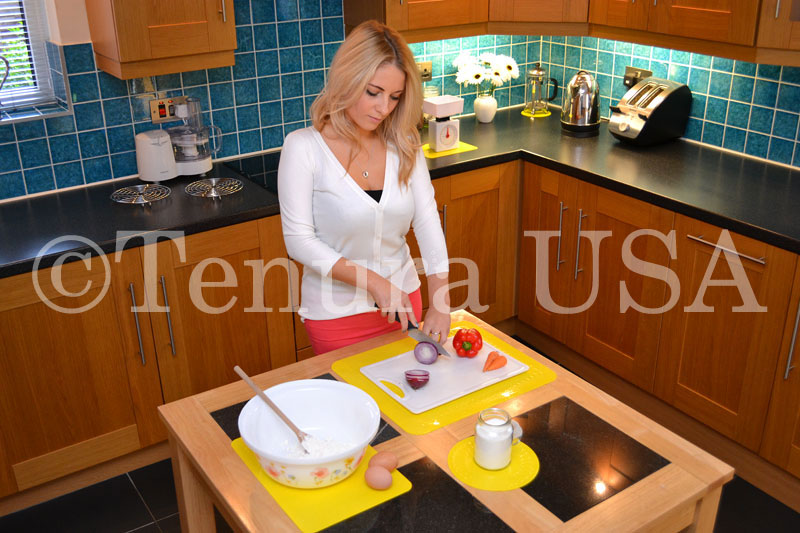 Tenura's range of anti-slip rectangular mats can be used in many places around the house. This includes placing them on tables, trays, bottoms of chairs/stools, etc. These mats are produced from an anti-microbial silicone, which means that there is no chance for germs or bacteria to harbor and grow on the mat. One can simply clean the mat by applying a small amount of soap and water and wiping down with a wash cloth – this will be more than enough to remove any dirt or grime that may come in contact with the mat after persistent usage. Once the material has dried, its non-slip properties will return and can be reused over and over. Tenura rectangular mats create a strong non-slip grip, without the need for a self-adhesive backing. The lack of the self-adhesive backing allows for the mats to be transportable so you can use it on any flat surface whenever you please! Often times, these mats are used to keep plates, bowls, and other dishes on the table from sliding around, ultimately reducing spills that can lead to damaged clothing, injury and mess.
Tenura also offers rectangular mats in a larger size, specifically constructed with a textured non-slip surface for shoes or boots to rest on. These mats can be placed at the base of chairs, beds and even toilets. The extra grip that these mats possess will eliminate the risk of slip and falls that could potentially lead to injury, especially for those who have difficulty walking freely. This larger rectangular mat is also ideal for wheelchair users when entering and exiting the chair.
Tenura's rectangular anti slip mats are available in a variety of sizes and colors to suit your needs.
Coasters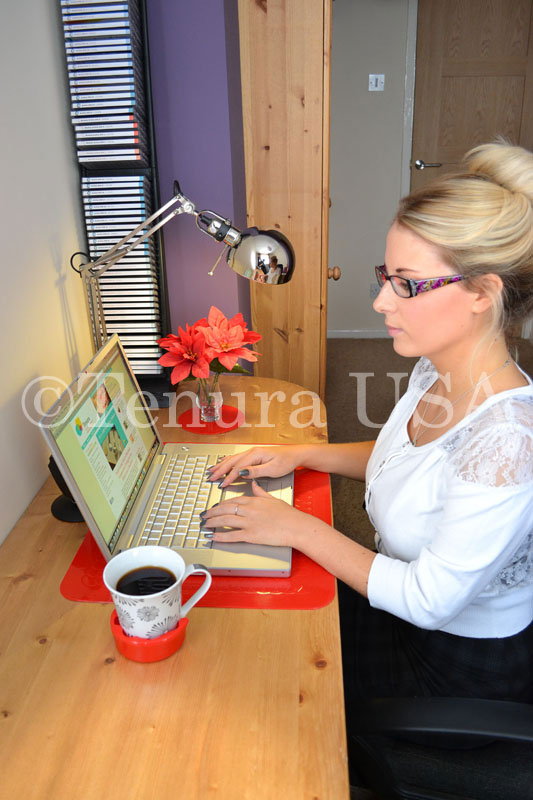 We have all experienced that frustrating moment in day to day life where we knock over a cup or bowl full of liquids, causing a spill and/or stain, creating extra cleaning up work. Well Tenura is here to help relieve you of that frustration. Tenura coasters make for a great non-slip safeguard as they allow for grip between the surface and object. Many tables or stands have a glossy or shiny finish to them, this can cause your glass or mug to slide around, potentially instigating a slip that can get all over yourself and your surrounding belongings. If the liquids fall on to the floor, this could lead to a serious slip and fall injury.
Lucky for all, Tenura offers a wide range of silicone anti-slip coasters. They are constructed from a silicone rubber, allowing for exceptional grip abilities. These coasters come in many different shapes and sizes, ideally designed to accommodate virtually all size beverage holders and prevent them from sliding around. This product come in packs of four, ensuring you have enough for yourself and family or even guests! Tenura coasters are ideal for use around any area of your home and/or the work place.
In addition to the coasters, Tenura also offers anti-microbial cup holders. These coasters are constructed to attach to the bottom of mugs and cups, creating a portable non-slip solution. By using Tenura cup holders, you are able to take your cup or mug anywhere around your home or office where a non slip solution will always be handy. These cup holders can be removed easily, and its silicone construction allows for that removal without leaving any residue. And just like the Tenura mats and coasters, these cup holders and be washed and used over and over once dry again.
Tenura coasters aid you in everyday tasks by providing a non-slip surface to rest spillable items on. These coasters are available in two different sizes, 14cm and 19cm, to suit your needs. This is ideal for some as all beverage holders range in various sizes. Make eating and drinking safer and avoiding spills and potential burns by using Tenura coasters throughout daily living. Just like the mats and cup holders, these coasters will not harbour bacteria thanks to its anti-microbial construction. They are easily cleanable and regain all non-slip grip once dry.
Cutlery Grips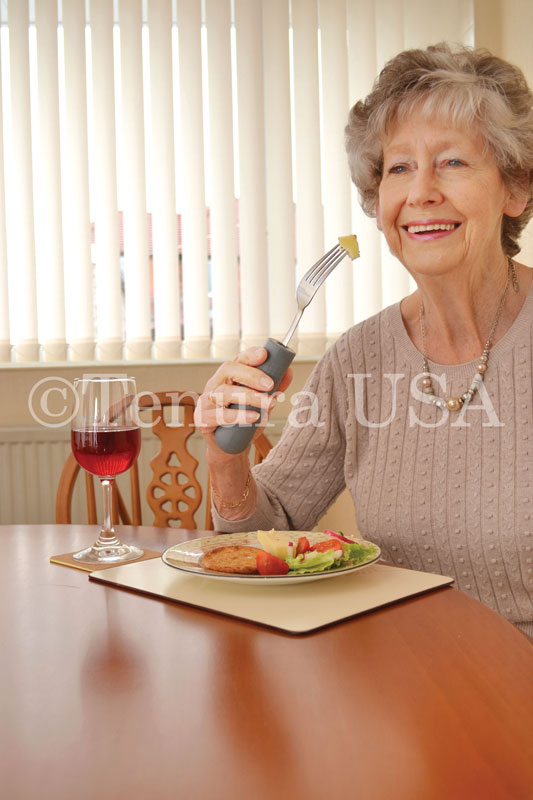 When it comes to meal times, those with hand impairments and diseases, such as Arthritis or Parkinson's, can seriously struggle when it comes to using eating utensils. These impairments directly affect ones strength and gripping abilities. The use of your standard knives, forks and spoons can cause great discomfort and pain. Tenura cutlery grips were created to make mealtimes less agonizing.
Tenura cutlery grips have been created to reduce the need for a strong grip of eating utensils such as forks, knives and spoons. They are constructed with a thick, non-slip handle to increase the surface area of the handle, ideally making the cutlery easier to grab a hold of. By using Tenura's cutlery grips, mealtimes immediately become less painful on the joints and more enjoyable to eat. Those who suffer from impairments will feel much more at ease when eating. Cutlery grips are constructed from an anti-microbial silicone material. This means that they are easily cleanable and will not harbour any dirt or bacteria. These grips come in a set of two, allowing you to insert a knife, fork or spoon so you will not have to switch between utensils. These grips can can also virtually be used for many different household items such as pencils, toothbrushes and more! Tenura cutlery grips are also available in childrens' sizes.
CupCaps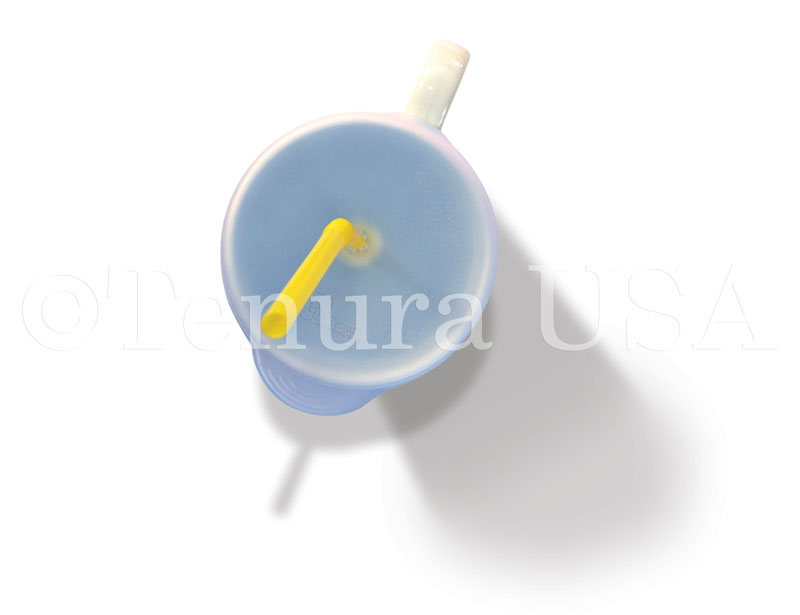 Tenura has constructed a spill-proof lid for beverages, known as CupCaps. CupCaps are an ideal solution for the prevention of spills and stains, all while keeping your beverage fresh for an extended period of time. Perfect for hot or cold liquids, CupCaps can be reused over and over as they are created from an anti-microbial silicone material that does not allow the harbouring of bacteria and germs. Those who may suffer from gripping impairments or diseases such as Parkinson's that cause shaking or extra movement, can frustrate themselves with more spills and stains, but Tenura CupCaps have been created to ease that frustration, making meal times less stressful. Because CupCaps are essentially a seal over the tops of cups, mugs, and more, there is a valve in the top middle, allowing space for a straw to insert and drink from. This allows you to take your cup with you wherever you go, whether that be in a car, public transportation or on your own 2 feet!
Tenura CupCaps are available in packs of two – a larger cap (3.1") and a smaller cap (2.3"). This allows you to have a cap available for various size cups. The decrease in spills and stains will become evident after the first use of CupCaps. The constant yucky stains and damage to clothing is now preventable with the use of Tenura CupCaps!
Tenura's versatile range of daily living aids will make you excited for mealtimes again. Simple daily tasks that were once a nuisance, will soon become something to look forward to. Meal times will become a pleasure rather than a chore.
To get more information on Tenura's mealtime products or to get more information on the complete range, please contact us via the "contact us" page or visit the product page on or site!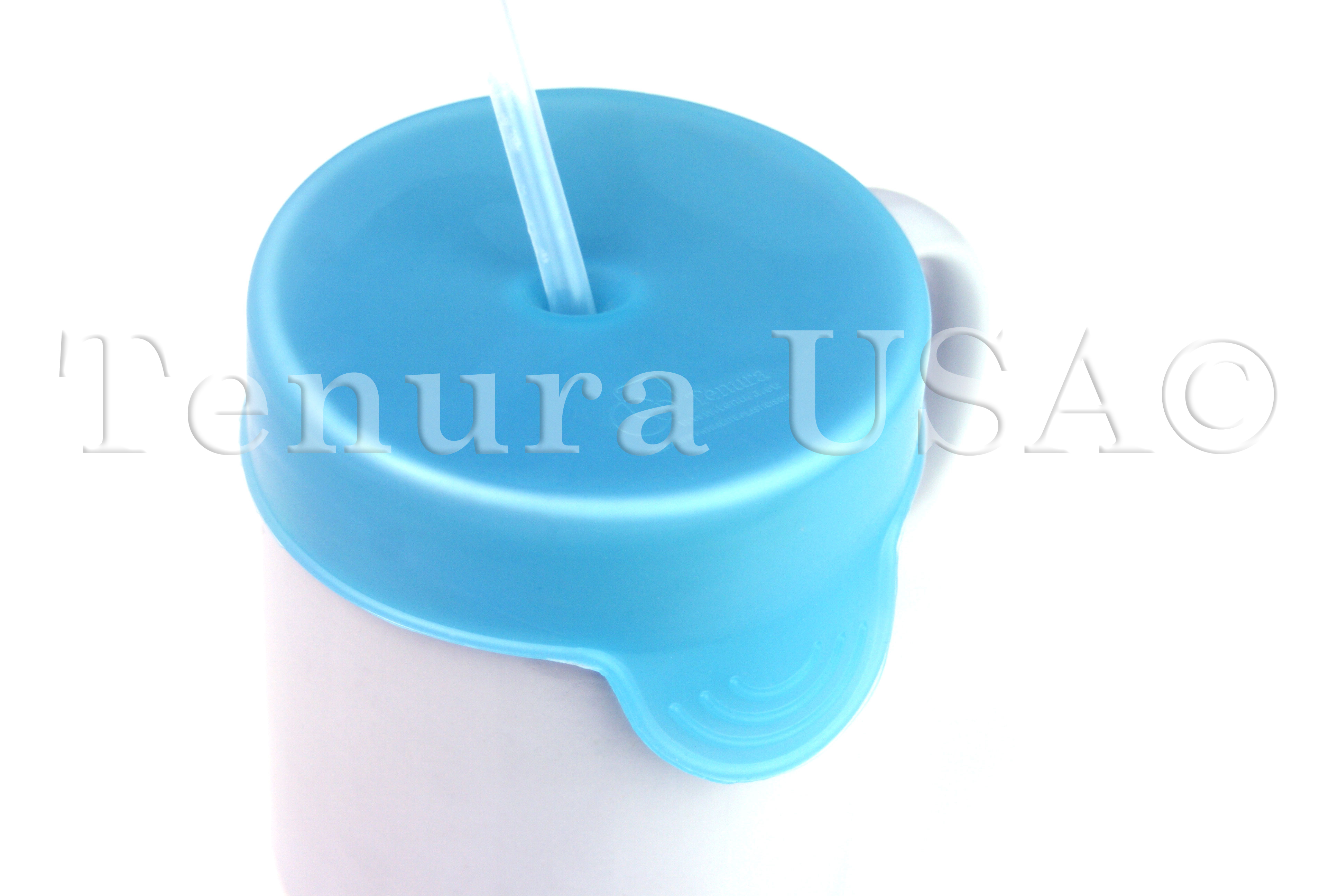 We understand that no one is a fan of spills and stains, and the potential danger that can occur from those spills. When a liquid hits any smooth surface, there is an instant possibility for an accident that can cause serious injury. Spills of cold liquids are one thing, but spills of hot liquids can be even more hazardous as spilling them can cause harm to your own skin or others around you.
Many individuals suffer from impairments such as Parkinson's, Arthritis and several others that can disrupt daily living. Often times these disabilities can lead to spills that hinder the flow of everyday life. Tenura has constructed a range of CupCaps that will help to prevent those potentially hazardous spills. These caps will seal over the tops of cups, mugs and cans which helps to eliminate spillage or leaking of any kind.
Tenura CupCaps are available in packs of two – each of which are of different sizes. Ones measures to be 2.3" in diameter and the other 3.1" in diameter.
Tenuras' 3.1" CupCaps are designed to fit over most cups and mugs to create a seal over top, eliminating any liquids from leaking out of the container. This allows you to now drink from your cup or mug without the worry or hassle of spills. This cup cap is constructed from a flexible material that allows you to stretch and mold it over nearly any cup or mug of average size which makes them perfect for use on the go. Tenuras' CupCaps are constructed with a small, anti-spill, valve in the center of the cap which allows for a straw to be placed through. The straw valve is ideal for children who cannot yet sip from a cup. CupCaps also aid in keeping your beverage fresher for a longer period of time. Tenura CupCaps are created to not let bacteria or fungi grow on them as they are constructed with an anti-microbial material. Cleaning Tenura CupCaps are as simple as applying a small amount of soap and water and giving it a good scrub to ensure that it stays clean and hygenic.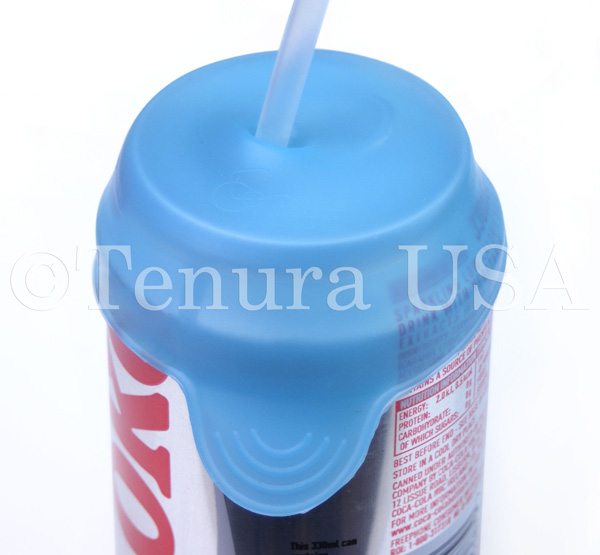 Drinking from a can is ideal when you're on-the-go, specifically during a quick lunchtime or break time. The only problem with cans is that they are not created to be resealed, which can lead to the spillage of those fizzy drinks. This can cause quite the sticky mess on your desk, equipment, or even paperwork. Spills can be triggered by those who suffer from unfortunate conditions such as Parkinson's or Arthritis, or even from those who suffer from daily life impairments. Fortunately, Tenuras' 2.3" CupCaps offers an ideal solution! Tenura CupCaps have been constructed to fit on nearly all cans of average size. They provide a seal unlike any other helping to eliminate those sticky spills that can damage your belongings. Tenuras' stretchy CupCaps will easily flex to conform around the top of the can. Once your beverage is finished, the cap can easily be removed and cleaned with soap and water for future use.
Tenura CupCaps offer preventative action when it comes to spillage from liquids that can cause stains, harm to skin or damage to property. They allow for a smoother day to day life to those who may have physical disabilities while allowing the environment around them to stay cleaner and safer. To learn more about Tenura CupCaps, prices or other Tenura products, please visit the Tenura website.