Tenura creates and manufactures helpful assistive devices for kids to make life a little simpler. Tenura's ergonomically designed Kid's products are beneficial during play and mealtimes. The three gadgets on show in the video are Tenura Kid's utensil grips, CupCaps and anti-slip mats. You can use these products to promote the development of fine motor skills like handwriting.
Skills such as handwriting and properly using cutlery, may not seem necessary. However, they are the foundation to key life skills, and by using and practising with cutlery, the child's brain develops fine motor skills.
Fine motor skills are the movements we make using our smaller muscles for intricate tasks, a task in our everyday lives that requires such skill is fastening the buttons on your top, tying shoelaces, writing and correctly using cutlery.
Kids who do not practice fine motor skills often have low self-esteem because they are unable to complete the same tasks as their peers. So, let's make sure your child is happy and prepared for life by encouraging their development using Tenura Kid's products.
Explore the benefits of our Kid's Range:
Kid's Utensil grips
Kids can struggle to hold items with thin handles as it requires fine motor skills and coordination. Typically, kids can feed themselves by age seven, having acquired these skills through years of practice. You may not give it much thought but grasping smaller objects requires a more extensive range of movement, which is why some kids struggle to hold cutlery. To help your child, slide Tenura Kid's utensil grips onto handles, enlarging their surface area and making them more comfortable to hold. Some great examples include:
Toothbrushes
Paintbrushes
Pens and Pencils
Hairbrushes
Kid's utensil grips come in a pack of two and are available in three colours, red, blue and grey.
For larger hands, we have ergonomically designed adult utensil grips.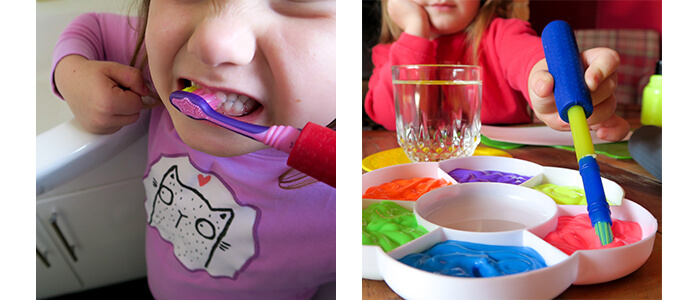 Tenura CupCaps – Silicone Drink Lids
We are all prone to knocking over drinks, especially kids, whose bodies are growing and don't have the best spatial awareness. With that in mind, CupCaps can be an ideal help. CupCaps are stretchy silicone drink lids that create a seal over the top of containers to keep the liquid inside and avoid spillages. Stretch the drinks cap over your cup, insert a straw through the eyelet and away you go, mess-free.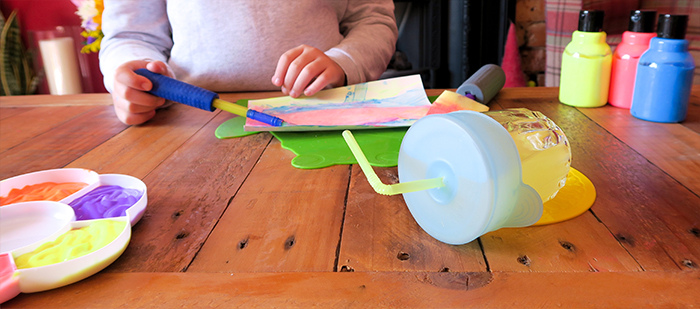 Kid's Table Mats
Arts and crafts are a treasured pastime for all kids, often consisting of paint, pens and glue, all of which can leave horrifying marks on your furniture. However, by using a Tenura Kid's mat as a barrier between the table and their art, you can protect your surfaces and keep the mess contained. Tenura mats are easy to wash/wipe down and are dishwasher safe.
The mat's silicone anti-slip properties prevent spillages, as paint pots and other mess-making supplies are securely held in place by the Kid's mat.
There are two funky shaped Kid's mats available, an orange cat and a green frog.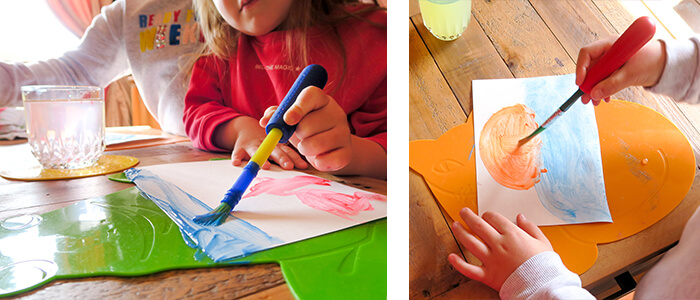 Benefits of Tenura Kid's Assistive Devices
Tenura's three assistive devices for kids are made from silicone, which means that have fantastic qualities, which include:
An essential feature as kids tend to put things in their mouth, so the last thing you want is the object to be toxic
Bacteria can't harbour on the mat's surface. Your child has a developing immune system, so it is crucial to reduce the risk of infection/­illness
Your child could be allergic to latex, and you may not be aware
Easy to hand wash and dishwasher safe
Tenura Kid's products can withstand hgh temperature.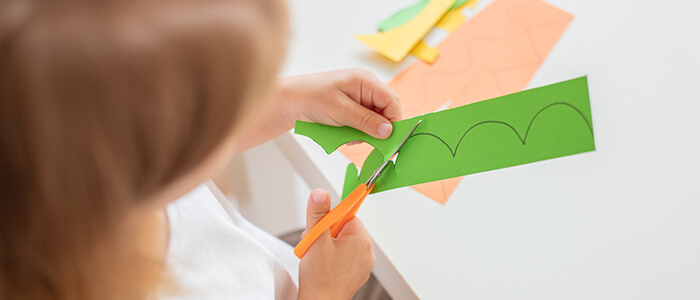 If you would like any further information on the products showcased in this blog and video, check out their product pages: Kid's Utensil grips | CupCaps | Kid's Table Mats