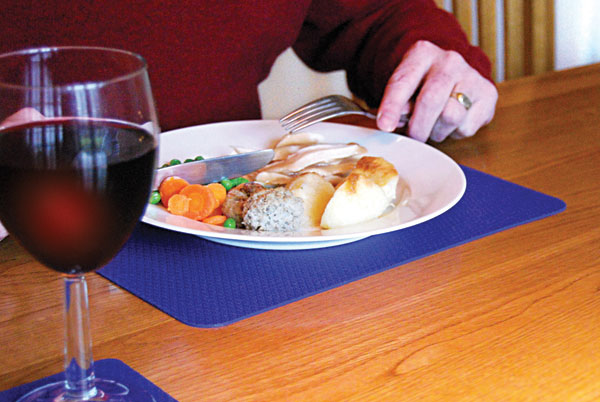 Tenura daily living aids offer a lot of versatility due to the many positives factors they feature. Their anti-slip and grip capabilities are paramount when mentioning the qualities of the range.
As well as focusing on these features in this article, let us not forget their heat resistance, which goes up to approximately 482°F, making the kitchen a place where Tenura products can be used safely, to assist you in the daily tasks of the kitchen. A notable mention towards silicone being non-toxic is needed here, as the main range of Tenura daily living aids are manufactured from 100% silicone, assuring they are safe to use in high hygiene areas.
Kitchens are a place where painful accidents can occur. Even the slightest loss of grip can result in painful injuries, cuts, and burns at the list's forefront.
A scenario is set out below, involving Tenura daily living aids as and where they are needed.
Chopping Ingredients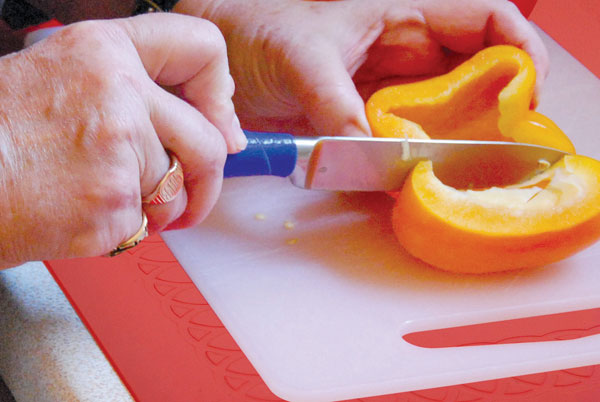 A Tenura table mat placed under a chopping board will prevent any slippage, holding the chopping board in place. This can also ensure that the chopping board has enough stability to be used one-handed if required.
Tenura anti-slip and grip strips or rolls can also be used, along with Tenura non-slip fabric. This way it makes it possible for absolutely anyone to make their kitchen safer, even on a very tight budget.
Tenura grip strips can be wrapped around a knife handle for increased grip and comfort.
Opening Containers
Tenura jar and bottle openers can be used here, even one-handed, with the aid of a Tenura mat or coaster. This eradicates any strain and discomfort sometimes associated with the opening of sealed containers.
Grating
Graters come in many forms, from grating boxes to handheld graters, and while many come with anti-slip edges or bases, in my experience, I have found they can still fail. By combining this with a Tenura anti-slip mat, you can assure that they will be held in position, saving your knuckles or fingers from any slips.
Cooking
Tenura grip strips are the daily living aid of choice at this point, available in strips or rolls. It can be cut to size if required and will wrap around a panhandle or cooking utensil for increased grip, comfort, and reduced risk of burns from metal handles.
Resting
Tenura mats and coasters can be used on a worktop to place pans on to prevent burn marks on your kitchen units.
Eating
Tenura table mats and non-slip fabric are perfect for use as placemats on your dining table, using Tenura coasters for any beverages, and grip strips for the utensils if required.
Tenura daily living aids have a prominent place in the kitchen, aiding you in an efficient, enjoyable kitchen experience, preventing injury to yourself or others.