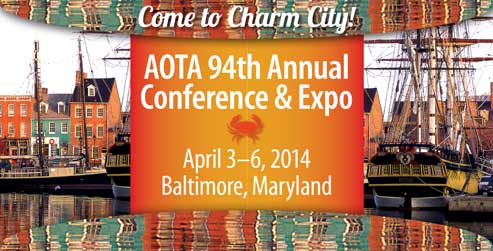 We will be attending this years AOTA Annual Conference, which is being held from the 3rd until the 6th of April in Maryland, Baltimore.
Held during 'OT month', it is a great opportunity to promote Occupational Therapy on a large scale, and push new methods and innovations. With lots of activities and conferences being held throughout the event, their is plenty of opportunities to learn about the advancements within Occupational Therapy, such as advanced practice, professional growth and personal advancement through the possibility of licensure renewal and governing body re-certifications.
Not only is it an opportunity to learn, it is an opportunity to make new connections and friendships, with thousands of passionate people within the industry attending, there is plenty of opportunity to meet new faces, and reacquaint with old ones.
There will also be special events throughout, including but not limited to Plenery Sessions, International Breakfast, Tech Day, Fitness Sessions and also including the Eleanor Clarke Slagle Lecture. View your program guide on the day to see the array of events held during the course of the conference.
Tenura will be in attendance to inform you of our new products, innovations, plans and to generally meet and greet a lot of new and old connections.
Finally, Baltimore is a wonderful City full of beautiful landmarks including the Inner harbour, National Aquarium, Fort Henry and plenty of places to dine. A trip in to Baltimore during the conference is a must!
For those attending, an exciting couple of days is ahead of you, and we shall see you there.
For more information about AOTA, please visit the website http://­www.­aota.­org/