Physical Therapists assist and encourage the development of someone who has a disability, is injured, or requires assistance to complete activities of daily living. They do this via physical therapy sessions, education, and therapy. They support people with neurological conditions like strokes and Parkinson's, neuro­mus­cu­los­ke­letal problems such as back pain and arthritis. They also deal with a person's cardiovascular and respiratory complications.
So how can Tenura's daily living aids assist the lives of Physical Therapists and their Patients?
Grip-Enhancing Silicone Rolls for Physical Therapists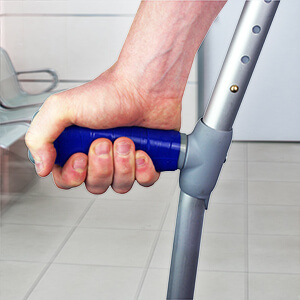 You can wrap Tenura silicone roll around grab rails at the practice. This aids with mobility as the silicone roll is grip-enhancing, making it perfect for people with weak grip strength. It also provides a layer of comfort for the user to hold. Use Tenura grip roll to adapt equipment making it more accessible for your patient, such as their pre-existing mobility aids.
You can make all sorts of grip aids from Tenura silicone rolls. You cut the roll down to the desired shape and wrap it around objects, including handles.
Tenura grip roll can help with equipment application by keeping splints and other apparatus in a still position during physical therapy rehabilitation sessions.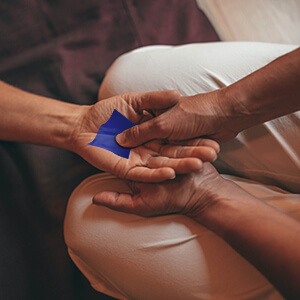 Some physical therapists use silicone rolls for massage therapy on scar tissue. They say it softens tendons following surgery when used with massage methods.
Tenura's non-slip roll can help with stabilization when positioning a patient during respiratory physical therapy. Positioning is the term used to promote optimal recovery and reduce the risk of pain and swelling.
Colour Contrast/Visual Aid Methods in Physical Therapy
When conducting forms of therapy with a partially sighted person, the contrast between objects is vital. For example, the phrase "it's black and white" means it's clear because there's a stark difference between them tonally, which helps individuals distinguish them. Most Tenura products come in vivid red, blue, or yellow, making them excellent visual aids.
There are trip hazards everywhere you go, and in a clinic, you must reduce risks such as this. You can add strips of bright red or blue silicone roll to hazardous items, such as doorstops that are often grey and camouflage into their surroundings.
Red silicone roll works exceptionally well at highlighting danger, as it's customary to signify hazards and heat in this way. For instance, stop signs are red, and the gauge dips into the red when you're running out of petrol. In your physical therapy clinic, you can effortlessly highlight steps, hot surfaces, and other dangers.
An example of using a blue grip roll within the clinic could be to make light switches more prominent. Make table corners and other sharp edges that could cause harm to stand out by using strips of blue grip roll.
Red and blue silicone rolls come in two variants non-adhesive and adhesive-backed, the latter being a more permanent non-slip­/grip-enhancing solution. There are also pre-cut grip strips available from the Tenura website.
Non-Slip Floor Mat Uses in Physical Therapy
When aiding a wheelchair user in and out of a wheelchair, a non-slip floor mat can give them a foothold, stopping them from slipping. It can also provide confidence to the user and make them more surefooted.
When standing up from a chair, the chair can jolt backward on slippery clinic floors. By placing a non-slip floor mat underneath, you can add a layer of safety, which is essential when evaluating the person's fall risk.
During weight-bearing procedures in your practice, where you move a person from one surface to another, Tenura non-slip mats can be a real benefit. Use non-slip mats as a preventative measure for slipping/­falling during this procedure. With both your feet and your client's feet safely positioned on a non-slip mat, the risks involved reduce as you both have a secure foothold, which would not be the case on smooth slippy clinic floors.
Non-Slip Table Mats for Self-Feeding­/Eating
Having a non-slip table mat under your patient's plate during self-feeding allows the user to exert more force, and if required, they can eat with one hand because the non-slip mat and plate remain in place. This real-world example is an executable daily exercise they can use at home or in the clinic to increase their eating competency.
Cutlery Grips for Physical therapy Sessions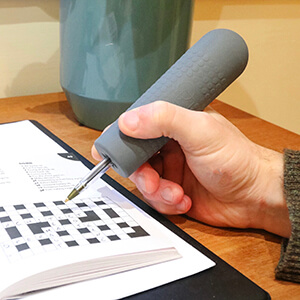 With age, dexterity decreases, so developing fine motor skills in your patient is vital. We utilize our fine motor skills in everyday life, such as buttoning up a shirt, which can be difficult, especially if the movement of your hands is limited.
As a physical therapist for seniors, handwriting practice is encouraged to progress a client's fine motor skills. To make this task more accessible, you can slide a Tenura cutlery grip onto a pen, improving grip and comfort due to the handle's increased surface area and the grip-enhancing properties of the silicone cutlery grip.
Eating involves a few steps that develop fine motor skills, such as using cutlery correctly, transferring food from fork to mouth, and using a knife for cutting. Sliding Tenura cutlery grips onto a fork or knife improves the person's capacity to hold and use their utensils, adding comfort and control.
Pediatric physical therapists will know that children have to learn fine motor skills, and following the above examples can push them to excel. We have Children's cutlery grips available designed for small hands.
Non-Slip Fabric for Hippotherapy Sessions
In hippotherapy, also known as equine-assisted therapy (physical and occupational therapy utilizing the temperament and mobility of horses), you can place a piece of non-slip fabric between the rider and the saddle to ensure they don't slide off. It can also add additional grip to the reins making Tenura non-slip fabric advantageous during hippotherapy. Alternatively, silicone grip rolls would also provide similar results.
Bottle Openers in Physical therapy Sessions
Recovery and re-establishment of independence are the primary goals of physical therapy. Things such as opening bottles may be a big feat for your patient, and a daily living aid can be of help. For pill bottles, a grip-enhancing bottle opener can aid your patient, helping them to reach their goals quickly and encouraging them to venture beyond their perceived limited ability.
At Tenura, we want to thank all physical therapists for their dedicated work improving the quality of life of their patients. If you have any further uses you would like to share with the physical therapy community, get in touch, and we will add it to the blog.
If you have enjoyed this blog, please subscribe to our newsletter. We send out updates on hot industry news ad our latest exclusive deals.