When shopping for placemats, there are so many on the market, which can make your choice tricky. It isn't always obvious which placemats are best. The material of the placemat has a significant effect on the quality and other attributes.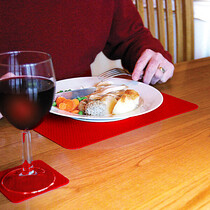 In this blog, we are comparing four types of placemats; vinyl, quilted, wooden, and metal to Tenura silicone table mats in terms of the following qualities:
Aesthetics
Toxicity
Environmental impact
Price
Durability
We hope this blog gives you some good advice and direction to help you find a placemat that meets your specific requirements.

Vinyl Placemats Vs. Silicone Placemats
Do Vinyl Table Mats Have Many Design Variations/Are Vinyl Table Mats on Trend?
Vinyl placemats come in many colors and shapes and can be produced on a mass scale. You can print on vinyl placemats which opens up even more design avenues.
Similar to vinyl placemats, silicone placemats can be molded into many shapes in a variety of colors. At Tenura, we offer three bold colors of silicone placemat (red, blue, and yellow).
Are Vinyl Table Mats Toxic?
Vinyl placemats are made from polyvinyl chloride (PVC), which gives vinyl placemats heat resistance, flexibility, and durability. However, PVC is thought to leach harmful substances like phthalates and dioxin (one of the most toxic, highly polluting chemicals ever produced). In contrast, Tenura placemats contain no phthalates or cost-saving chemicals, making them non-toxic.
What Environmental Impact do Vinyl Table Mats Have?
Making vinyl and silicone involves petroleum extraction from a non-renewable resource, crude oil, followed by a refining process requiring extensive energy and heat.
Vinyl is mass-produced but not readily recyclable, therefore taking up significant landfill space. Silicone doesn't decompose like vinyl placemats into microplastics that are dangerous if ingested by wildlife. Silicone is a safer and more sensible alternative to plastic placemats such as vinyl, especially for the environment.
How Much do Vinyl Table Mats Cost?
The brand name has the most significant influence on vinyl placemat's price, whereas the cost of silicone placemats is dependent on quality. Tenura placemats are a premium silicone construction that boasts many benefits, including being antimicrobial and heat resistant (up to 250°C).
How Long will Vinyl Table Mats Last?
Vinyl placemats are reparable using patches from hardware stores, but consumers aren't unlikely to mend their placemats. Vinyl placemats can be durable, but out of vinyl and silicone placemats, silicone is a better choice in terms of its durability. Silicone is incredibly resilient even at extreme temperatures. This durability makes silicone placemats last for years.

Quilted Placemats Vs Silicone Placemats
Do Quilted Table Mats Have Many Design Variations/Are Quilted Table Mats Trendy?
Most variations of this placemat are down to the fabric, which can be plain, patterned, or textured. They are considered old-fashioned and are more likely to be in homes of older generations. They are very different in finish from silicone placemats, which are often smooth and glossy.
Are Quilted Table Mats Toxic?
Providing the fabric used to create the quilted placemat is natural. It should be plastic-free, so just like Tenura silicone placemats, it doesn't contain phthalates plasticizers. It could, however, contain cost-saving chemical dyes that can cause skin irritation. At Tenura, we strive for our products to be premium which means we use no cost-saving chemicals in production, making our placemats non-toxic.
What Environmental Impact do Quilted Table Mats Have?
Waste products such as harmful chemicals and carbon emissions from the production of synthetic fabric contribute to global warming.
Wool can and should be recycled. Synthetic fabrics are harder to recycle and often end up in landfill sites. Silicone can be recycled by taking it to specialized recycling centers.
How Much do Quilted Table Mats Cost?
Sometimes they are double-sided, so you get two quilted placemat designs for the price of one. They are relatively inexpensive, especially those made of synthetic materials, because they are cheaper and easier to produce on a large scale.
Silicone can also be mass-produced, making it an accessible price point for environmentally conscious manufacturers such as Tenura, who want to create plastic-free products. Silicone products tend to be slightly higher in cost to the consumer than plastic alternatives; however, they will last longer as they do not degrade. Therefore, the impressive properties of silicone placemats will remain intact.
How Long will Quilted Table Mats Last?
In a shorter time, quilted placemats are more likely to stain and look disheveled. You can wash them at a low temperature, which helps retain their aesthetic appeal but follow the fabric guidelines to avoid fading and shrinking the fabric.
Synthetic fabrics are more durable than natural ones, but stitching can still come away with wear, and fading will occur. Synthetic fabrics typically have higher heat resistance and can be machine washed for ease. Silicone mats are good to use again once dry after cleaning them with warm soapy water.

Wooden Placemats Vs. Silicone Placemats
Do Wooden Table Mats Have Many Design Variations/Are Wooden Table Mats Trendy?
Due to wood's solid composition, these placemats can have 3D effects or laser-cut designs, increasing their variety. It's on-trend and can match many aesthetics within the home.
Silicone placemats can also be laser cut and poured into a variety of molds to make intriguing shapes. Tenura placemats, on the other hand, are simplistic by design and meet specific objectives, like being non-slip and heat resistant.
Are Wooden Table Mats Toxic?
Wood with any defects, including toxicity and disease, will not be used to create placemats. They could be dangerous to health, especially when they come so close to food.
Tenura placemats are made of food-grade silicone and are completely non-toxic.
What Environmental Impact do Wooden Table Mats Have?
Wooden placemats are one of the most environmentally friendly placemats. They are procured from trees (a natural renewable source) and can decompose in a relatively short timescale. Trees also reduce CO2 in the air, with CO2 being a pollutant that speeds up global warming. I've restored this, as it was fine.
Tenura's non-slip and heat resistance qualities will last years simply by washing your mat with warm soapy water between each use. Without additional and potentially time-consuming maintenance, your wooden placemat will degrade and require replacing quicker than a Tenura placemat.
How Much do Wooden Table Mats Cost?
We have seen a price increase in recent years for pine, oak, and other cool-toned woods, whereas, in the past, mahogany was in vogue. The type and age of the wood can vastly affect the price, but they are at an accessible price point for the most part.
As you may have seen on the high street or online, silicone is trendy, especially in terms of bakeware - this is thanks to silicone's impressive robustness and machine washable convenience.
How Long will Wooden Table Mats Last?
The durability of wooden placemats is high if it's formed from mid-range wood and you follow the care instructions.
Because silicone is so durable and built to last, you likely won't need to purchase any other placemat in your lifetime, whereas you might need to replace your wooden placemat in 5 to 10 years.

Metal Placemats Vs. Silicone Placemats
Do Metal Table Mats Have Many Design Variations/Are Metal Table Mats Trendy?
Metal placemats are very up and coming as they tend to signify elegance and style. You can have laser-cut designs and different finishes. Similar to silicone, the molten liquid is poured into different shapes to create showstopper table décor.
Are Metal Table Mats Toxic?
The vast majority on the market are safe, especially if you have bought them from a reputable retailer that stocks products that meet UK regulations. Nevertheless, you need to keep them away from harsh chemicals as the metal may not be chemically inert like Tenura placemats.
What Environmental Impact do Metal Table Mats Have?
Metals are widely recyclable, which conserves natural metal resources. Recycling metals is far more eco-friendly and less polluting than making new metal from ore. Ore is increasing in scarcity.
Less environmentally friendly metals such as copper and rose gold require high heat and specialized machinery to manipulate. Copper is also toxic and can have adverse effects on marine life and waterways, whereas silicone is non-toxic and will not affect these ecosystems.
How Much do Metal Table Mats Cost?
Metal placemats have a higher price tag due to the metal's value and specialized machinery such as large high-pressure presses used to manipulate the material into shape.
A cheaper alternative to 100% metal placemats is metal-coated placemats. However, the coating can wear away with time, especially if you don't follow the product's care instructions.
Tenura placemats are the middle ground in price between these two metal placemats.
How Long will Metal Table Mats Last?
Metal placemats should have a long product life as they are made of durable material, just like Tenura silicone table mats. However, metal mats will require more care and maintenance than Tenura mats.
To Conclude…
Here at Tenura, we are a bit biased towards Tenura placemats. Still, we recognize that all placemats have a purpose, which is why we have broken down our conclusion by category.
The best aesthetically appealing placemats are…
Are you someone who likes to be on-trend? Perhaps you'll opt for wooden, vinyl, silicone, or metal placemats.
The best non-toxic placemats are…
All placemats in this blog, bar the vinyl placemats, are non-toxic. Remember that the metal and quilted placemats can be toxic depending on the dyes or metal used.
The cheapest, most durable placemats are…
If you are frugal with your money, then price and durability may be the most attractive attributes. Based on our findings, vinyl, wooden, and silicone placemats are the best.