Anti-Slip Bathroom Aids
Tenura anti-slip bathroom aids are aqua safe, non-abrasive, self-adhesive stickers. Suitable for application on baths, shower bases, wetrooms and any areas exposed to moisture.
Our bathroom aids will provide extra support for the elderly, disabled and children when bathing. Our bathrooms aids come in the form of non-slip bath stickers and are easy to apply.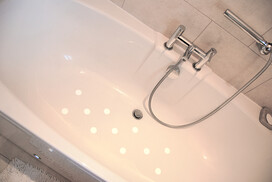 Non-abrasive, aqua safe, anti-slip stickers for your bath tub or shower.